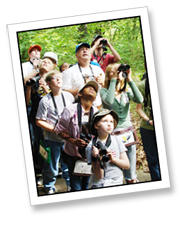 Making Happy Campers
Once again, Wild Birds Unlimited is proudly teaming up with the National Audubon Society to offer summer camp scholarships to children and young adults. This partnership is part of our Pathways To Nature for Kids initiative and has successfully sent more than 2,000 underserved kids to Audubon summer camps since 2007. While attending these camps, young people not only connect with nature, but they also learn to respect it and gain a desire to preserve it for future generations.
Learn how to apply for a scholarship.